Functional design for all
Using modern technology alongside a deep passion and understanding of clay as a material, Emily finds the perfect balance of approachability and high design.

She examines every single detail of an object during the design and production process, and the end result is a beautifully crafted, exceptional piece of ceramic art. And the best part–it's meant to be used every single day.
Curate your world with objects that matter
Taking pride in the objects you own is no small concern. The things we use each and every day play a huge role in our mood–and the experience of using a product shouldn't be taken lightly.

That's why making sure every one of her pieces serves its purpose–and serves it well–is at the forefront of her mind.
Technology meets art
Each piece in Emily's collection starts with 6 points on the computer. She connects the points to form the top of the vessel, and then adjusts the angles and the curves in her 3D modeling program until it's all just right. She then prints the piece on her in-house 3D printer or forms it in plaster, depending on the design.

With a prototype in hand, she makes a plaster mold of the piece which she uses to create duplicates of the original design using liquid porcelain clay, also known as slip. Her mastery of the slip-casting process is truly what makes her work unforgettable.

Most customers find it surprising to learn that the colors in her pieces do not come from a glaze, but from the clay itself. She carefully mixes her own slip and dyes each color herself, and developed her own technique of casting two-tone pieces which make up the majority of her
body of work.

After tidying up the slip-cast pieces, they dry and go into an electric kiln for their first firing. They are then glazed in a hand-mixed clear glaze and fired a final time to cone 6.
A lifelong passion
From her first experience with clay at the age of 12, Emily LoPresto knew ceramics would play a huge role in her life. She's actually never not had a job working in the arts or with clay.

She discovered slip casting while earning her Crafts Degree in Ceramics at the College for Creative Studies in Detroit, and gained the inspiration for her future body of work, which she officially created in 2018. Ever since then, the majority of her time is dedicated to her craft and designing the best pieces possible for her customers.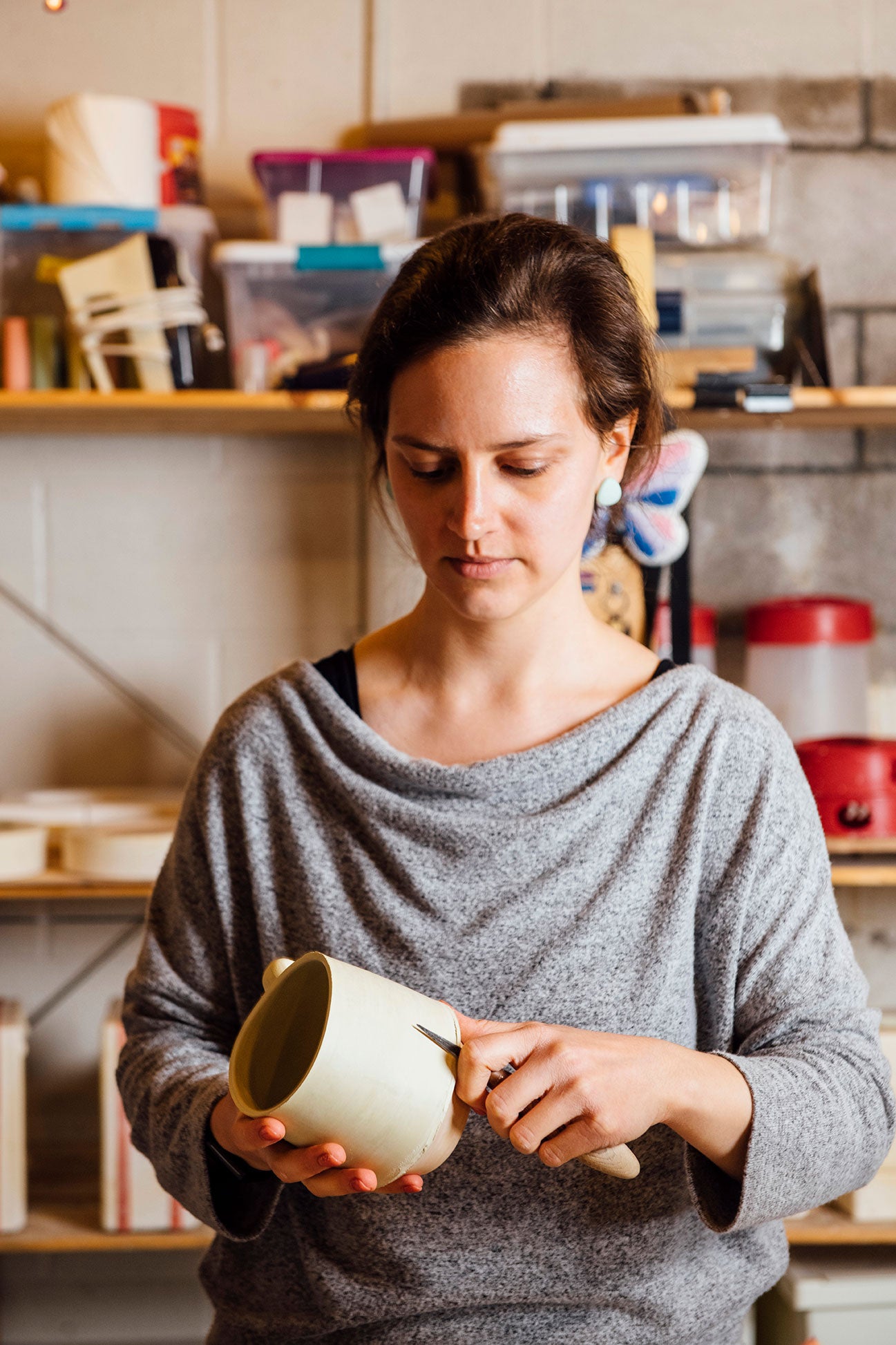 Designing is her favorite part of the process. She seeks to differentiate her work from that of other potters by taking advantage of the technology she uses–that's why you won't find a single round piece in her collection.

Emily prides herself on being a systematic, capable, and independent woman. In addition to
doing all of the designing, slip-casting, shipping, and selling of her work, she also designed and
built all of the tables in her home studio in Saline, Michigan. She travels to Art Fairs all over the regional area using a trailer she built out herself.